IT'S BACK! THE CRF TRIP! Take a Dive in the Coral Restoration Nursery: An Unforgettable Experience!
Trip to Key Largo - August 6th and 7th, 2022


Letts Dive!! is planning a weekend trip to Key Largo on August 6-7th, 2022 to see the coral nurseries and help with the outplanting!

Letts Dive is j

oining Coral Restoration Foundation™ out on the water during a

hands-on, tailored, SCUBA diving program for an experience you will never forget.
The
programs are designed to suit all levels of divers, letting all ocean lovers have a positive impact.
Coral Restoration Foundation™ (CRF) is the world's largest non-profit marine-conservation
organization dedicated to restoring coral reefs to a healthy state, in Florida and globally.
Their
core mission is
to restore coral reefs, to educate others on the importance of our oceans, and to use science to further coral research and coral reef monitoring techniques.
CRF
works to support the reefs' natural recovery processes through the large-scale cultivation,
outplanting
, and monitoring of genetically diverse, reef-building corals.
CRF
engages and empower others in the mission to save our planet's coral reef with dive programs, educational activities, scientific collaborations, and outreach.







TRIP INCLUDES:

Coral Restoration Foundation Class & Dives Saturday 8/6 in nurseries / outplanting reefs with CRF Rep a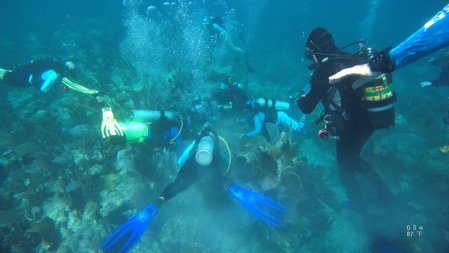 nd Silent World (private charter - boat just for us!)
Sunday AM 2-tank dive 8/7 with Silent World (private charter - boat just for us!)
Coral Restoration Foundation Contribution
Tanks and Weights
Gratuity for dive crew

ACCOMODATIONS ARE NOT INCLUDED IN THE PRICE.


We need 15 people to run this trip so tell all your friends!